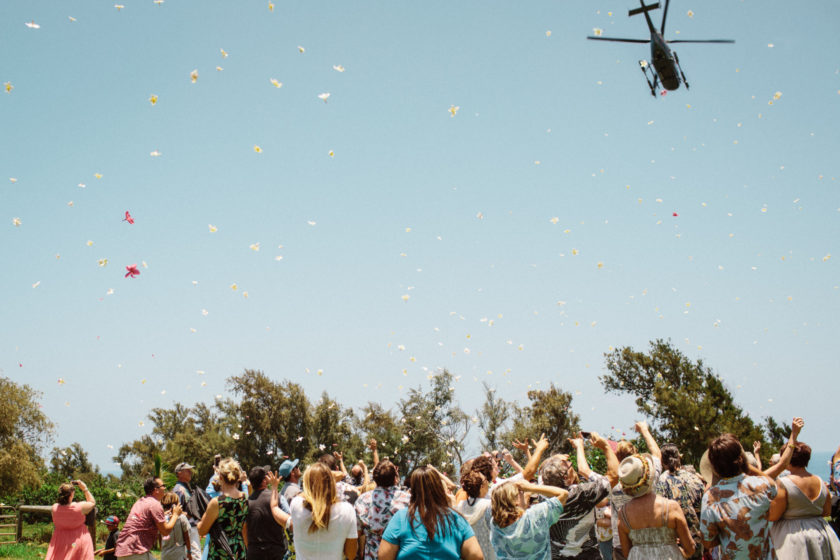 Behind the Scenes at Hawaii Forest & Trail: Mokulanikila Wedding Photo Shoot
After a marriage and divorce, I am now with a man with whom I plan to spend the rest of my life.  We have discussed marriage over the years, but a tangled web of complications has pushed a wedding out of the picture for us.  However, at Hawaii Forest & Trail I love helping to plan others' nuptials and special events at our outdoor venues.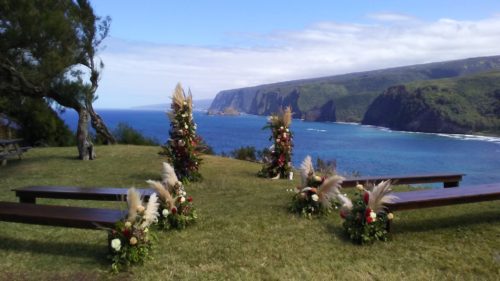 Today we are doing a wedding photo shoot at Hawaii Forest & Trail's scenic "Mokulanikila" venue. Sara of Jots of Thoughts coordinates the scene with exquisite detail while Lei Conradt shoots away with her two camera holster reminding me of a speedy gunslinger from the old west.  Alison of Grace Flowers craftily places locally grown orchids, proteas, ridonculous (petite rose-like blooms more refined than their silly name implies!), and "side of the road" ferns into gorgeous arrangements that compliment this incredible vista.  I sit on a bench provided by Big Island Tents while she tells me about growing up in the business.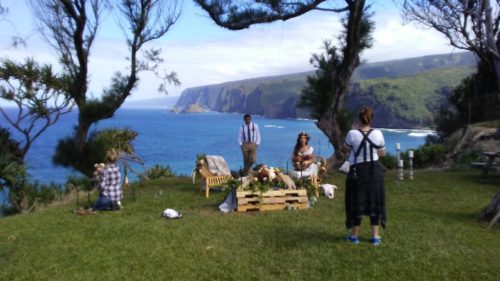 The warm ocean breezes carry sweet floral fragrances down the aisle and into my mind; it wanders to a place of what if and where would we…?
Would we say our vows at the dramatic Kilauea volcano with Pele's burning lava emerging bright like our deep love for each other?  Would we start our new lives together with the dawn of a new day on Mauna Kea's summit, where the morning sun melts away the stars into brilliant reds and oranges at the top of the world?  Would we wed in front of a dramatic waterfall, where water flows forth like our endless love?  Or here, at Mokulanikila, where the sapphire ocean meets the azure sky in front of our private heavenly island?
My groom and I are stepping out of a helicopter here at Mokulanikila, greeted by swirling plumeria blossoms raining from another helicopter above when I awake from my daydream.  I need to move out of the wedding scene so Lei can photograph the bride and groom.
Whether we marry or not, it's hard to envision being anywhere better than here in the splendor of Hawaii Nei, outdoors in the presence of nature's artwork and Hawaiian Aloha.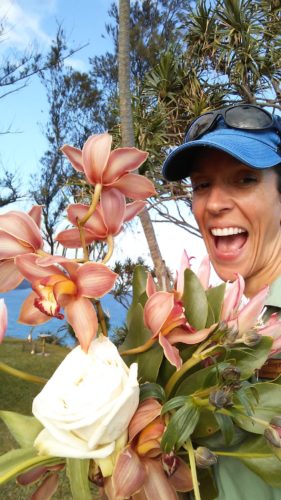 Looking for the perfect way to express your love outdoors in Hawaii?  Contact us at Hawaii Forest & Trail for adventurous proposals, romantic vow renewals, or luxurious outdoor weddings.
blog by April Nelson-Group & VIP Sales Specialist