Changes to Hawaii Volcanoes National Park operating hours have impacted the availability to experience the park. Please call 808-331-8505 and our staff can match you with the right Big Island nature tour.
Hawaii Volcanoes National Park is an absolute must see for most people visiting the Big Island. Hawaii Forest & Trail offers several tours to Hawaii Volcanoes National Park. Our interpretive naturalists bring a greater understanding to your experience. Informative and interesting tour guides give insight into the complex interaction of cultural history, geology, and ecology that surrounds this amazing location. Stand atop an active volcano. Experience native tropical rainforests. Explore the lava fields and flows that shape Hawaii Island.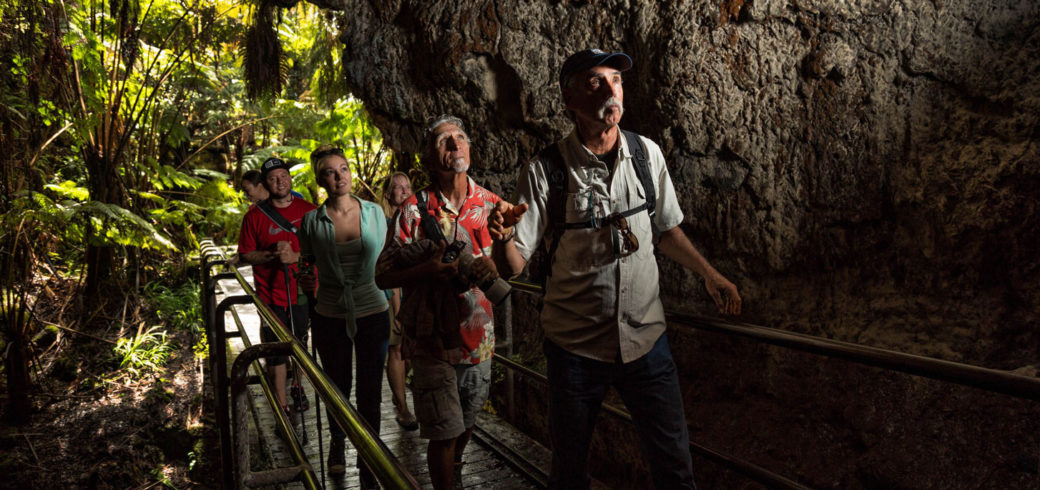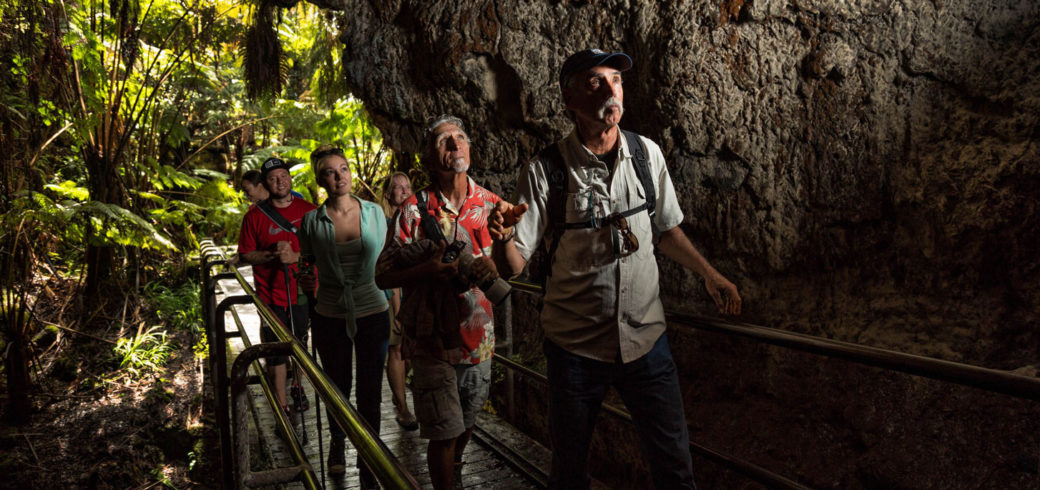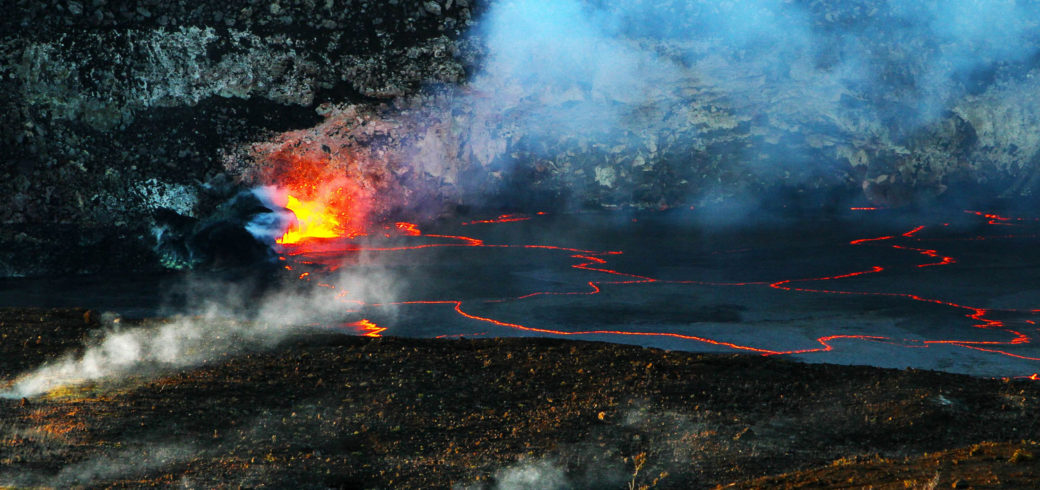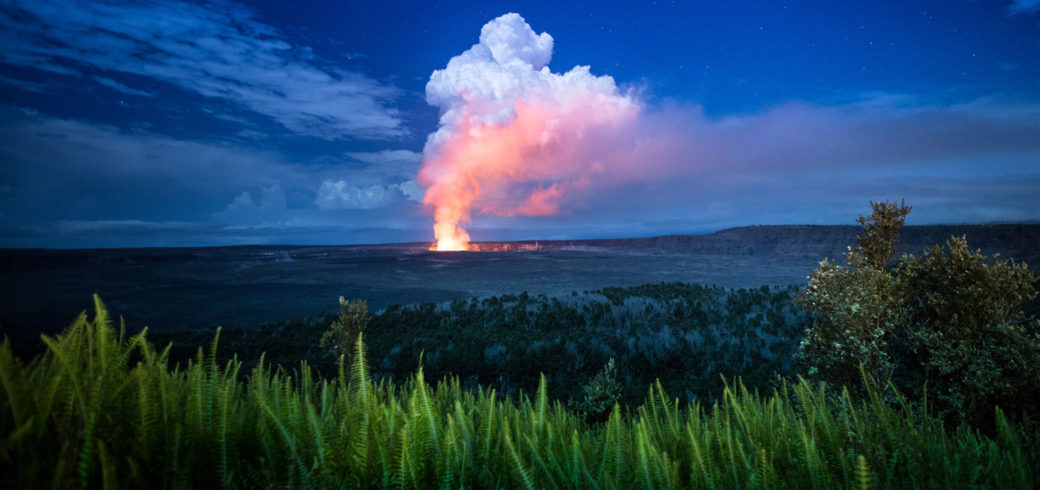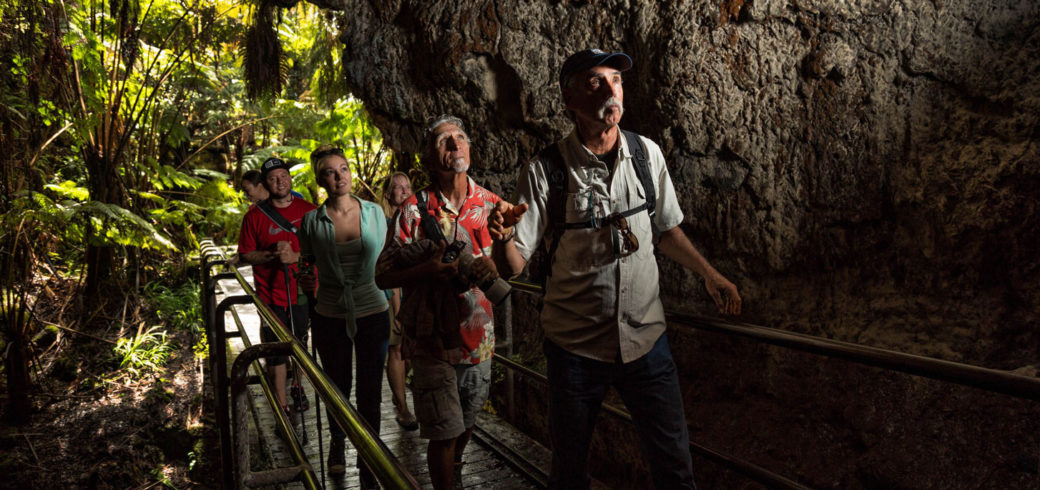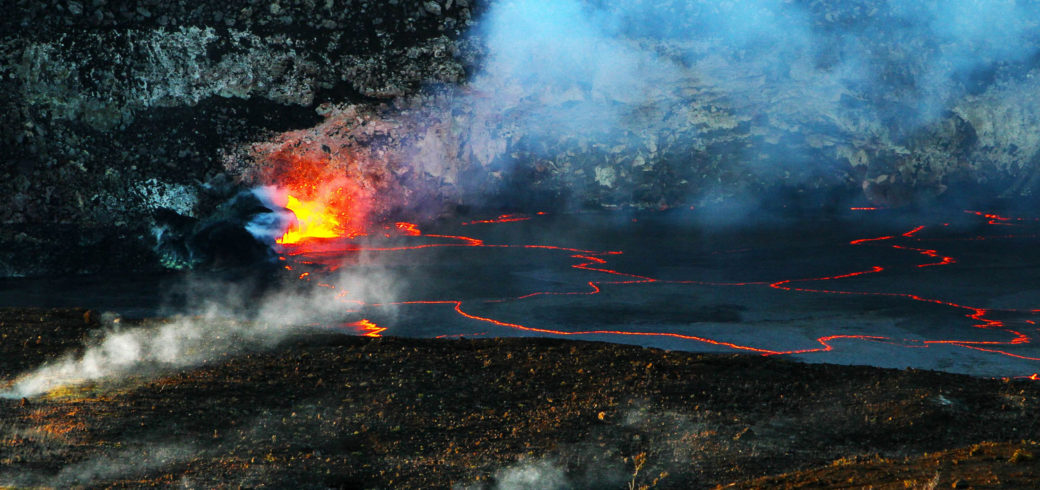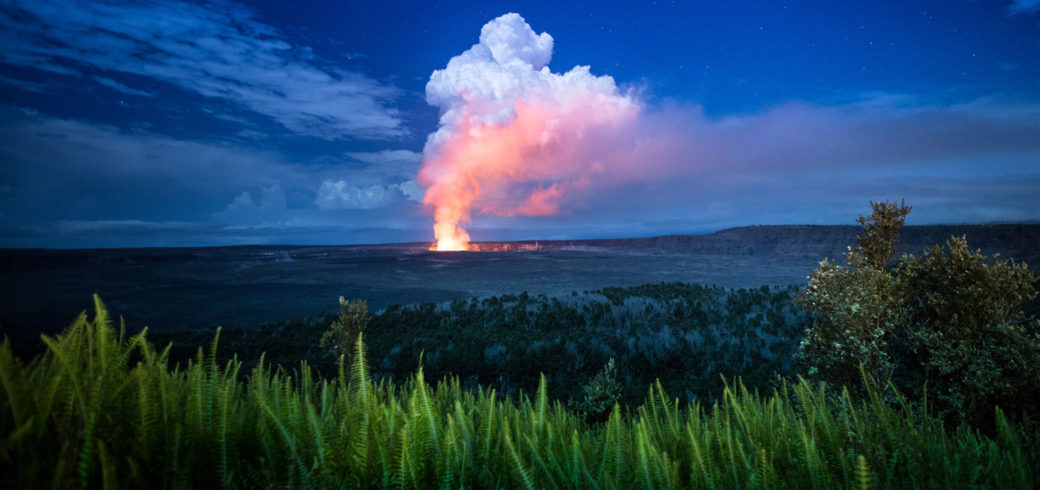 Thurston Lava Tube
Thurston Lava Tube is a great introduction to lava tube formations. The Hawaiian name for Thurston Lava Tube is nāhuku, which refers to a dripping formation on the interior walls of the lava tube, similar to a stalactites. Thurston Lava Tube is located in some of the most beautiful, pristine Native Hawaiian rainforest in the park, possibly in the state. On Hawaii Forest & Trail guided volcano tours, guides can spend time both in the tube and in the nearby rainforest talking about the plants and ecosystem.
Visitor friendly, Thurston Lava Tube is easily accessible. There is a paved pathway and a few sets of stairs that bring visitors to the entrance. The walk is only 20-30 minutes. Once inside some of the uneven surfaces in the floor have been filled and there is electric lighting for added safety.
Jagger Museum
Friendly and approachable displays feature information about volcanology and Kilauea Volcano. Volcano visitors enjoy a stunning view of the caldera both for daytime vistas and nighttime lava glows. The museum is named after MIT geologist Dr. Thomas Jagger, and features Dr. Jaggar's study of volcanology.
Chain of Craters Road
Inside Hawaii Volcanoes National Park, Chain of Craters Road follows a series of craters east down a rift zone to the ocean.  The craters along the road are formed by an interesting process. The eruption activity moves magma from the center of the volcano to the east through a long series of cracks and fissures that is known as a rift zone. Inside of this rift zone is an underground highway of magma movement.  Chain of Craters Road roughly follows that pathway. Imagine the whole volcano as a giant clamshell that opens and closes, which cracks and collapses under this pressure. When the land collapses into the volcano and a crater is formed.
The road has exposure to about a dozen craters, where visitors can take photos or hike a little into the terrain. Take a volcano tour with Hawaii Forest & Trail and have the opportunity to see and understand how this process works.
Authentic Ancient Hawaiian Petroglyphs
Out on the pali coastal plain is a historic and special place called pu'uloa. Pu'uloa has the largest assemblage of petroglyphs in the state. Visitors are welcome to respectfully view petroglyph carvings that range from simple geometric and concentric forms to the more anthropomorphic ones that seemed to depict different activities in life. The hike out to the Hawaii Volcano petroglyphs is about a mile and crosses over some uneven surfaces, pahoehoe (smooth) lava. The short hike is close to sea level and across the plain which is typically warm, sunny and windy. Visitors can help preserve this precious cultural treasure by staying on the walkway platform and not touching or otherwise desecrating the ancient Hawaiian petroglyphs. If you're interested in visiting the Hawaiian petroglyphs and learning more in-depth information about Hawaiian cultural history, Hawaii Forest & Trails has Hawaii volcano tours with highly qualified interpretive guides.
Ways to explore Hawaii Volcanos National Park:
This full day journey covers all your Big Island "must do" experiences and more, and is enhanced by a gourmet…
Travel through the remote and rugged landscape of Kau – home to Hawaii Volcanoes National Park, historic farming plantations and…