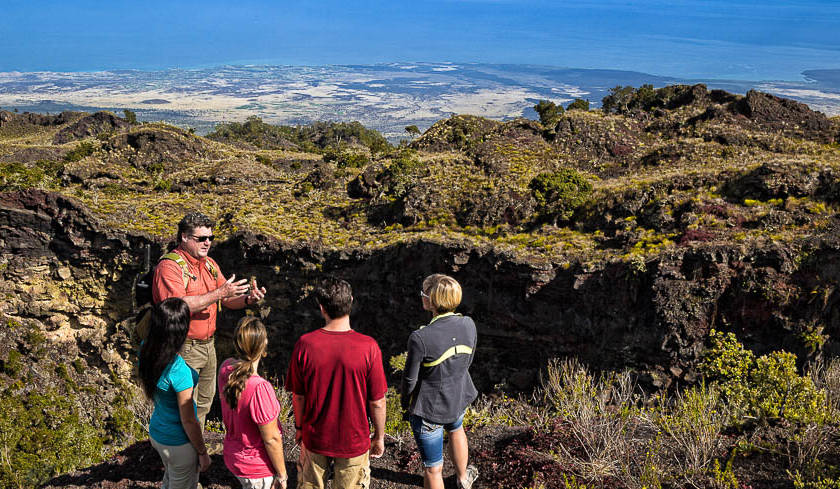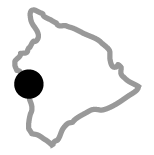 The Kona Coast has much more to offer beyond its rocky appearance. At first glance, you may feel like you've landed on the moon and many visitors see little beyond Ali'i Drive and their hotel pools. But for the adventure traveler seeking an authentic experience, the Kona coast has an abundance of tucked away beaches, a breathtaking dormant volcano, and lush rich jungle to explore.

Hawaii Forest & Trail offers several "west coast" tours that will take you behind locked gates, into the mysterious native forests and even to our favorite brewery.

Hidden Craters
Hidden Craters  — venture onto the slopes of Hualalai — part of Kona that even many locals have never experienced. This tour is a "local's favorite" because of the rare chance to explore the privately accessed ancient volcanic craters that are tucked away. You don't have to drive to the national park to have a volcanic experience! Hualalai has an incredible history just a few minutes from many of the hotels.
Kohala Waterfalls
Kohala Waterfalls — Head to the quaint and historic sugarcane town of Hawi and explore the lush jungles of Kohala district. Using our offloading Pinzgaur vehicles, guests get to hike the forest, past many waterfalls and swim in a private pool under a waterfall.
Hakalau
Hakalau — This tour is the premier birding tour on Hawaii island, but shouldn't be limited to experts. Hakalau is a stunning forest reserve in Upcountry Kona where exotic birds nest in lush foggy misty forests. The upcountry experience is missed by most guests and this is a great way to revel in the diversity of Hawaii Island ecosystems.
Epic Island
Epic Island  — Through the south part of the island and to the volcano, this circle island trip is a great way to explore the expansive southwestern district of the island and get a peek into a volcano.