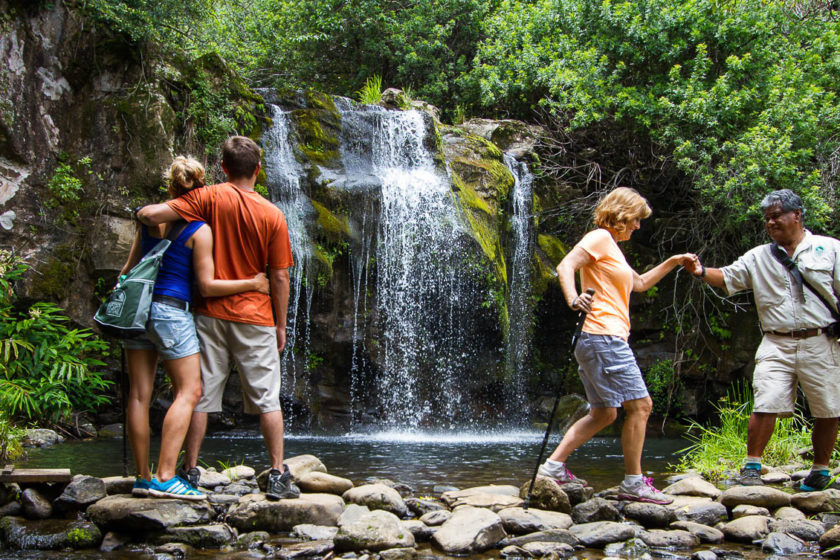 Last November when many people were preparing for family vacations or holiday dinners, I was training to guide our waterfall tour with Uncle Danny.  My Uncle Danny is not my real uncle–he has thousands of nieces and nephews, and you will become one of them if you join his tour.
Listen to local conversations and you will hear people calling their peers brah (brother), sista (sister), or cuz (cousin).  People respect elders as aunties and uncles, and everyone helps take care of the keiki.
The Hawaiian concept of "'Ohana" or "Family" is one of the reasons I chose to move to Hawaii, despite my biological family residing over 4,000 miles away in Michigan.  Everyone, from the original Polynesian settlers, to immigrants in the sugar cane era, to modern residents from the mainland, is over 2,500 miles from home and the families they left behind.  Perhaps this extreme isolation is why people began to adopt their friends and neighbors as 'ohana.
Rob and Cindy Pacheco head the Hawaii Forest & Trail family tree, which has grown from the two of them to just under 100 employees over the past 23 years.  They are the demanding parents that strive to impart wisdom while showing love and compassion at the right moments.  At our holiday party, they gave gifts for employees reaching seniority milestones.  They did not give a corporate pin or clock, but rather an autographed photo of a guide's favorite native bird, or a plane ticket for a long time warehouse employee to visit his son on the mainland.
Uncle Danny was one of the first guides Rob and Cindy hired and reaches 19 years of seniority this month.
Back on the trail, Uncle Danny led us past many waterfalls until we came to a particularly striking one which separated into many small branches over the rocks before cascading into a sparkling pool below.
"Is this the famous 'Secret Falls'?" I asked him.  I had seen it on the guide map.
"Yes," he replied, "but I prefer to call it 'Ohana Falls.  The top starts together as one small stream, just like a small family.  Over time, individuals go their separate ways – just like the branches of the waterfall.  Keiki grow up and go off to college; mom and dad retire and move somewhere warm.  But in the end, whether for a holiday dinner or a family vacation to Hawaii or even just in their thoughts and hearts, they all end up back together again, just like the water in the pool at the base of the falls."
Over the course of my training, I heard many names for that special waterfall, but Uncle Danny's is my favorite.  Come see 'Ohana Falls on our Kohala Waterfalls or Zip & Dip Adventures, and become part of our Hawaii Forest & Trail family this season.
Secret Falls aka 'Ohana Falls