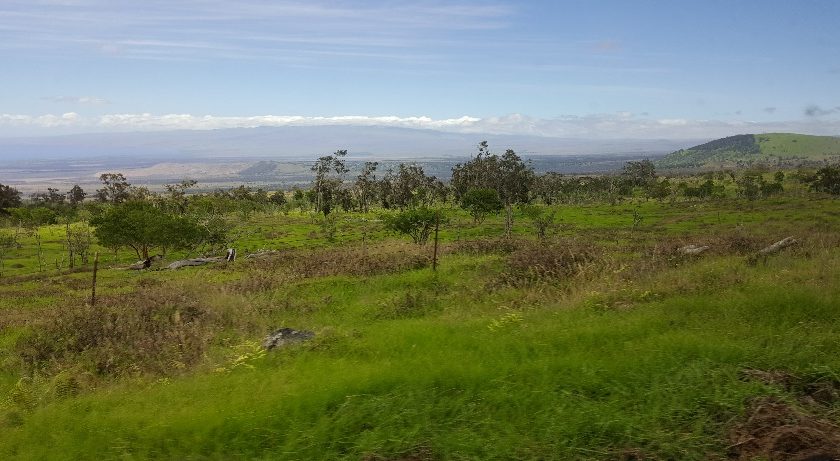 Outplanting at Pu'u Wa'a wa'a
The weather on July 8th at Pu'u Wa'awa'a was a comfortable temperature with a light breeze and shining sun. Ideal conditions for tree planting!
A group of Hawaii Forest & Trail employees met in partnership with Department of Land and Natural Resource employees at Pu'u wa'awa'a for an outplanting opportunity. The day began by introducing ourselves to staff and fellow volunteers at the hunter check in station, signing waivers, and participating in a quick hui (to join/meet). In the hui we closed our eyes in an effort to collect our thoughts, senses, and intentions for the day's service.  Mel, our volunteer coordinator/entertainer for the day, offered a beautiful oli, and we were off on our journey to the planting site.
The 40 minute 4WD road to the planting site was a nice drive.  We saw horses, cows, goats, and 'io along the way.  As a new Hawaii Forest & Trail employee the drive provided a great opportunity for fellowship and to get to know my colleagues.
When we pulled up to the planting site, we hiked in supplies and tools necessary for the day's work. This included, o'o bars, watering cans, picks, and sickles. Mel gave us a short demonstration on the most effective way to plant the koa seedlings grown at Pu'u Wa'awa'a's  greenhouse by her colleague Matt.  We partnered off, and I had the pleasure to work with Mingxia, one of our awesome summer interns.  The group of us were able to plant over 40 trees in the course of a couple of hours!  We took a short break for a potluck style lunch where we exchanged jokes and food. Mel provided the mo'olelo of Pu'u Wa'awa'a and the genealogy attached to it.
After lunch, we hiked back out to the planting site where we searched for koa keiki (seedlings), from the last several outplanting missions, to give them some extra water or grass control.  Mel reminded us that this may be one of the only times they receive water within the year.  She also professed that by preserving the life of the forest, we in turn maintain our own existence.  This really resonated with me, and I later researched the Division of Forestry and Wildlife's management of Pu'u Wa'a'wa'a to find a similar aphorism on their website, "E malama I ka 'aina, a malama ka 'aina ia 'oe (Care for the land and the land will care for you)."   I feel that this understanding relates to the type of value system Hawaii Forest & Trail attempts to impress upon both its team and its patrons.
Join Pu'u Wa'awa'a for a volunteer work day http://www.puuwaawaa.org/volunteer.html
by Chelsea Nichols