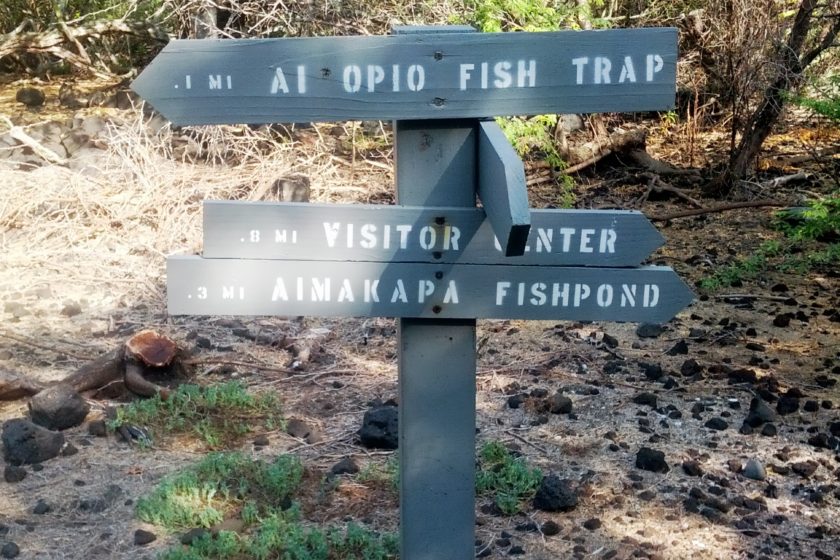 Two Down and a Couple Dozen More to Go
Yesterday's Google Trekker mission took us to Kaloko-Honokohau National Historic Park. KAHO, as it's known in NPS acronym jargon, is a real jewel amidst the developed setting of North Kona. Bordered by Honokohau Harbor to the south, the busy Queen Kaahumanu Hwy. and Kaloko Light Industrial to the east, the new Shores at Kohonaiki golf course resort to the north, and the mighty Pacific Ocean to the west, KAHO is a true urban National Park.  It also happens to be just across the street from the Hawaii Forest & Trail headquarters which makes it easy to hop on over and walk the trails.
KAHO is really an amazing place with lots of pre-contact archaeology, historic trails, fishponds, heiau, the Aiopio Fish Trap, anchialine ponds, native dryland plants, good birding, beautiful shoreline and beach, turtles galore, and a great surf break.  We started the hike early to avoid the mid-day sun and heat.  Starting from the Visitor Center we headed north on the Mamalahoa Trail to the Kaloko Road (not Kaloko Drive), down to Kaloko Pond, turned south  along the coastal trail which is a segment of the Ala Kahakai National Historic Trail, past Aimakapa Pond, the lava beach flats and Aiopio.  Leaving the park for just a bit we cut around the Honokohau Harbor to the park trail entrance near the Kona Sailing Club which led us back to the Visitor Center with a short detour on the Petroglyph boardwalk. The route is very diverse and gorgeous. It requires footwear the can handle rough lava and does well in deep beach sand.  Hiking boots with short gaiters to keep the sand out is the solution.
It was a quiet morning. We had the park to ourselves except for a few NP workers scattered about, though we did get some intent stares from patrons on a dive boat leaving the harbor.  And Ranger Chris got some good surveillance practice as he followed along covertly.  The Trekker only caught him a couple times.
Highlights of the morning were newly arrived Kolea or Pacific Golden Plover (Pluvialis dominica fulva) and one Kioea or Bristle-thighed Curlew (Numenius tahitiensis) calling softly from the pickle weed at Aimakapa. The Kioea is a sought after target for guests on our Birdwatching Adventures.  Amazing to think of the incredible journey these birds have made to get here and now they'll be immortalized on Google Maps!
A hui hou!