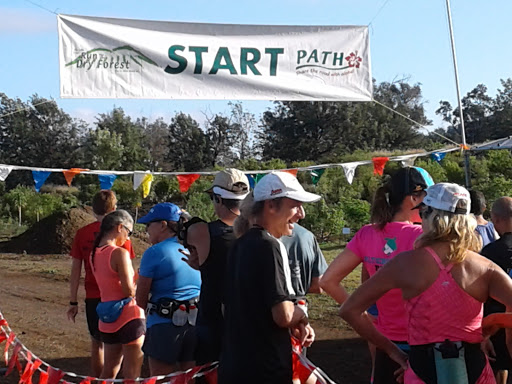 Run for the Dry Forest by Jeff Manzo
It was a beautiful day out at Pu'u Wa'awa'a this Saturday.  I reached out to Elliott Parsons (PH.D. University of Hawaii College of Agriculture, Forestry & Natural Resource Management) earlier in the week to see if they still needed volunteers for the Pu'u Wa'awa'a Dry Forest 5k/10k run.  He said they still need a course sweeper to make sure everyone got through the course safely.  I said sure I can do that, but would prefer to do it on a mountain bike.  He said ok, and what a beautiful experience it was. This run was sponsored by the People's Advocacy for Trails Hawaii (PATH), Division of Forestry and Wildlife (DOFAW), and the US Forest Service (USFS).  Proceeds from the race help fund the conservation efforts to save the many endangered species of plants and birds of the area, some of which are found nowhere else in the world.
–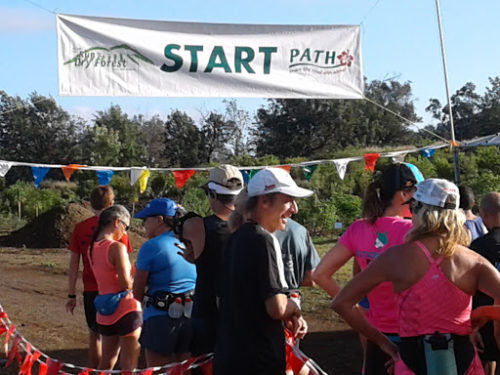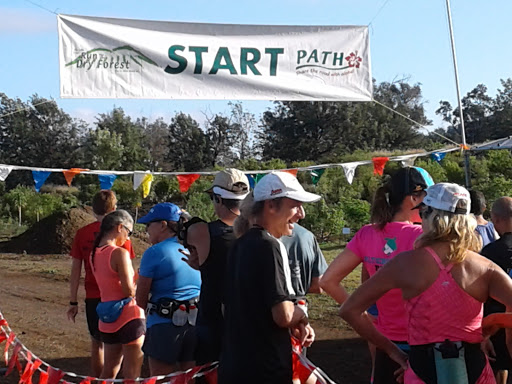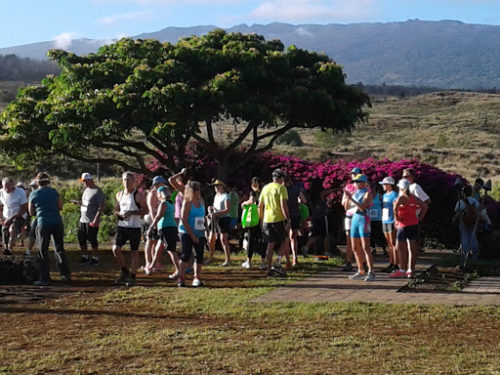 –
There were plenty of athletes/runners that showed up to the race, and everyone was in awe of the beauty of the pu'u in the morning as the sun was coming up.  The 10k race went first, then the 5k.  There were separate courses for the 2 distances.  The 10k was a beautiful, but tough climbing course that went around the pu'u counterclockwise and then back to the lake house grounds, and the 5k meandered through the lower dry forest.
–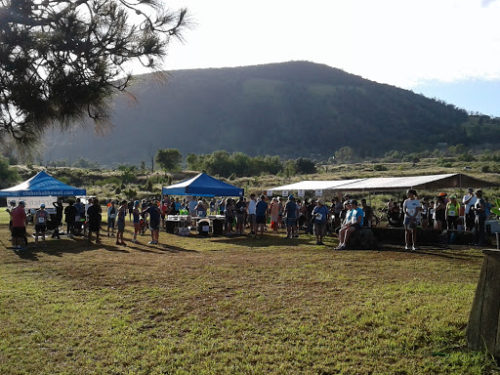 –
The new Hauaina Restoration Area was debuted on this day.  Ho'awa was the plant that was showcased for the day, and was also part of the artwork on the finisher's t-shirt.  There is a hiking trail that highlights many native plants to the dry forest of Pu'u Wa'awa'a, many of which are endangered.  Trees, plants/shrubs are labeled along the trail with descriptions.  I didn't realize until then that this Hauaina Restoration Area is open to the public to come and see at any time.  There was an abundance of wildlife all around.  I never saw so many Nene Geese in one place, and they were very comfortable coming up to humans and posing for pictures.   I recommend going to Pu'u Wa'awa'a for hikes in the dry or wet forest to get in touch with endemic nature of this part of Hualalai.  What a relaxing and educational nature experience.
~Jeff Manzo
–