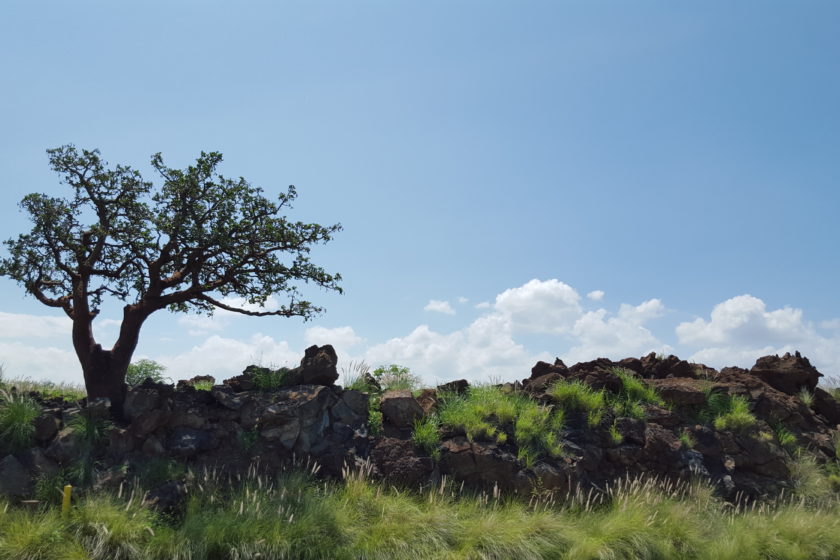 The Waikoloa Dry Forest Initiative hosts a Wiliwili Festival every year, and for that week I enjoy replacing the phrase "really really" with "wiliwili". It's usually wiliwili funny the first few days and then my co-workers and roommates become unamused.
The wiliwili is a beautiful tree endemic to Hawaii. Its vibrant flowers are juxtaposed with dark lava while the gnarled branches and short thick trunks mimic the rocky aa flows on which they thrive. In Hawaiian, "wili" is to twist, screw or wind. Its seed pods twist open to expose brightly colored burnt-orange seeds. The wood is very light and is favored for use in fashioning surfboards, ama (canoe outrigger floats), as well as floats for fish nets. An Olelo Noeau, a Hawaiian proverb or wise saying, tells us that "Pua ka wiliwili, nanahu ka mano". This literally means that "when the wiliwili bloom, the shark will bite". Centuries of keen observations by kamaaina, shared with us through hundreds of poetic proverbs, aid in improving our own observational skills, help keep us safe, and remind us to always be aware of our surroundings.  Wiliwili is one of many rare native plants that the Waikoloa Dry Forest Initiative is striving, with your help, to protect in their 275 acre dry forest preserve.
The Loper 'ohana stoked with their keiki koa.
During the Wiliwili Festival, Hawaii Forest & Trail donated the use of two 4WD vans to help shuttle festival attendees to the Waikoloa Dry Forest Preserve. Along with getting to visit the preserve, I was able to score a keiki koa from the native plant giveaway, browse the silent auction and learn valuable information from local educators and vendors.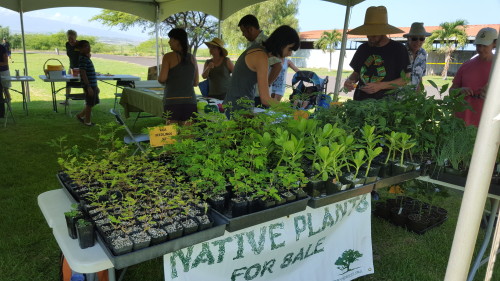 Native plant give away.
Check out waikoloadryforest.org for more information on how to get involved.  Wiliwili, do it.  
Sources:
http://nativeplants.hawaii.edu/plant/view/Erythrina_sandwicensis
Bobby Camara
photos by Kim Loper and Bridget Walker