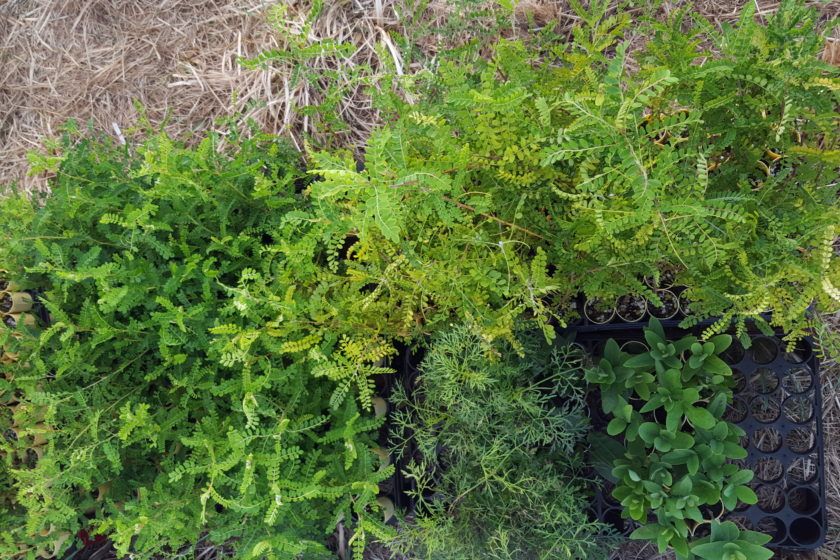 Mauna Kea Forest Restoration Project
  i ola oe, i ola makou
"may all of these things grow so that you will live and thrive,
so that we too will live and thrive."
We are all (life on earth) interconnected, and our collective health depends on the health of each individual or life form.  Variations of this phrase, found in old pule and chants, are spoken when planting to ensure vigorous growth.
I became enamored and inspired by this phrase while planting trees with the Mauna Kea Forest Restoration Project (MKFRP). They work to protect and restore the dryland forest habitats on Mauna Kea.  MKFRP host volunteer out plantings several times a year around the rainy season. I joined a Volunteer Campover mid-April with five other volunteers from around the island. We worked under the direction of three MKFRP crew members and planted about 600 native seedlings including mamane, kookoolau, and iliahi.
Our first day consisted of  setting up camp, planting a few seedlings and a 4WD trip above the cloudline.  There, high on the slopes of our mauna, we were fortunate to see ahinahina (silversword), glistening in the bright sunlight.
Our planting site was a great vantage point.  While we were working and naming mamane trees, we could see waves breaking outside the breakwater at Kawaihae, the gradients of green from the slope of Kohala mountain and the outline of Hualalai.  We admired the young lava-speckled slopes of Mauna Loa, and the in-your-face majesty of an up-close Mauna Kea. We were even able to see Haleakala peeking through a lei of clouds. Talk about an office with a view!
Mark Hansen, the "Sandalwood Man" joined us the second day to plant iliahi, and collect seeds from mature trees. The third day we planted the remaining mamane trees, explored the Kaohe Reserve, and looked for palila along the new Puulaau Trail.  We heard a few but didn't see any, I guess I'll have to go back.
The remnant open dryland forests in which we spent our time used to be closed-canopy forests. Though we have become used to seeing today's landscape of wide-open pasture with scattered, old, gnarled trees up on the mountain, that is not how that area looked long ago.The dominant trees are naio, mamane, iliahi and lama. All of them are threatened and face continued serious challenges from, for example, fire, ranching, tree harvesting, disease, and the effects of military activity.
As Mark described while teaching us where to plant, we need to learn to be more like iliahi. Each one has a semi-parasitic relationship with a host tree.  The hosts supply nutrients and help gather moisture for iliahi, and both manage to survive.
i ola oe, i ola makou
Efforts by groups including MKFRP are working to rehabilitate what has been drastically altered by human influence.   To ensure a positive future for all our forests we need continued and  protection and lots of hard work. It is hard to find measures that  compare the value of  an acre of a healthy forest system with the value of an acre used for cattle farming,  but I strongly believe that Hawaii  is dependent on how we take care of and nurture our places.
i ola oe, i ola makou
We were fortunate to experience a remnant of closed-canopy dry forest. The difference in temperature, moisture and energy compared to the open fields was remarkable. I hope generations to come experience these forests on a larger scale.  On the second day we collected iliahi seeds.  They were literally raining on our heads as we scrambled around to gather them, and I couldn't  help but smile thinking about the efforts being made to protect and make better all our special places for the future.
i ola oe, i ola makou
Outplanting Trip Tips: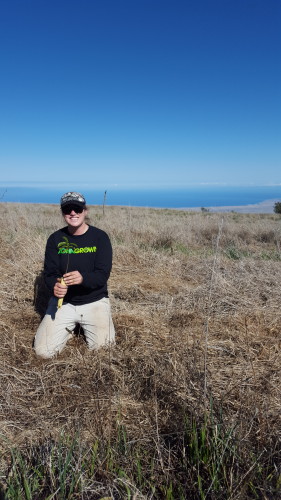 Use the power of aloha and share with every plant you place in the ground.

Pack a warm sleeping bag, and a beanie.

Baby wipes are a good thing, even if you don't have a baby.

Name the trees you plant. (see tip 1)

Sharing food = making friends

Drink water

But not too much water right before bed. (it's cold out)

If you do have to exit your sleeping bag and tent because you drank too much water before bed, check out the stars!

Breathe and enjoy- look around at the stunning view.

Wake up and watch the sunrise
by Bridget Walker