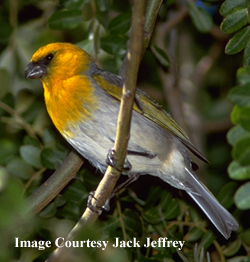 Scientific Name: Loxoides bailleui
Distribution: Hawai'i Island only, in mamane-naio dry forests of Mauna Kea from 6,000 to 9,000 elevation. Today, the Palila occupies only 5% of its historic range on Hawaii Island.
Diet: Feeds mostly on immature mamane seeds. Also takes naio berries, insects and mamane flowers & leaves.
Biology: The Palila is a finch billed honeycreeper that produces a maximum of 2 fledglings per year. The destruction and degradation of mamane-naio forests by introduced mouflon sheep, feral sheep and feral goats are the greatest threat to the species survival. Critical habitat for the Palila was designated on Mauna Kea in 1977 and federal courts determined that all sheep and goats must be removed from these areas for survival of the species.