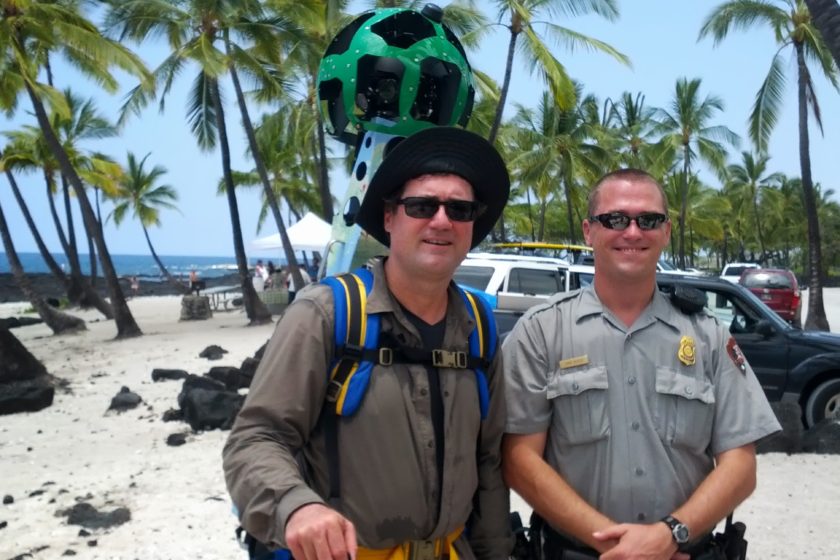 Trekker Trail #1 in the Bag
Sunday we finally got out with the Google Trekker and collected data!  Our first Trekker outing was to to Puuhonua o Honaunau National Historic Park.  We started from the Visitor Center then hiked the 1871 trail to the boundary of the park at Kiilae.  It was hot with the 43 pound pack but lots of fun.  We had the trail to ourselves until near the lava tube and rock ramp where a local couple were fishing from the rocky cliff.  Once we trekked over to the picnic area and the Royal Grounds it was busy with Sunday beach goers and park visitors.
Along with the inspiring ancient sites and rock work, swaying coconut trees, and the crystal clear waters of South Kona, it was wonderful to see some of the rare native Hawaiian coastal shrubs thriving under the NPS's care.  Especially exciting were the dense stands of  Naio Papa (Myoporum sandwicense) and Ohai (Sesbania tomentosa), both in bloom.  Months from now Google Map users will be able to see these rare endemic plants from their computers or smartphones anywhere in the world.  Unfortunately, the sweet smell of nectar in the air today won't make it to the virtual world of Google Maps.
The Trekker attracted lots of positive attention.  "Hey, are you the Google man?" and "We love Google Maps!", were just a couple of the many friendly shout-outs that came our way. Folks are fascinated with our sci-fi looking contraption.  Everyone wants their picture with the Google Man and his Trekker. We took pictures with families, couples, kids, and individuals.  We took a few pics of our own.  One here with Ranger Chris Scheid and another with a good friend, malo-clad, Park Interpreter Charlie Hua.  We told Charlie the Google folks automatically blur faces and license plates but not malo's.  Looks like his red loin cloth will be forever immortalized on Google Maps.
Over the next month we plan to knock out our list of Hawaii Island trails.  Per Hawaii Forest & Trail's agreement with Google, we can only reveal what trails we're doing until each has been trekked. We had planned to start several weeks ago but ended up having to get a new Trekker from Google, our first one had hardware issues–the trials of cutting edge technology. Stay tuned for the next outing's report.  A hui hou!